Description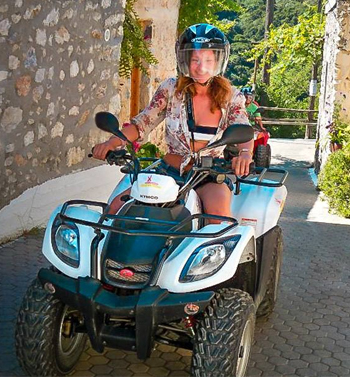 "Be a traveler, not a tourist. Try new things, meet new people and look beyond what is in front of you." By having this motto, Go Xplore Tours wants everyone to live alternative experiences during their holidays in Crete.
Being a local family, they can guarantee that they will take each one to unique and unexplored places that no one else can ever take. For the last 36 years, they have mastered at off road experiences. They provide Motorbikes, Quads, Jeeps and MTB in order to give everyone the opportunity to see the hidden Cretan beauty and explore the activities that are available to those landscapes.
Go Xplore Tours organize Safaris with Quads-ATV, Jeeps and MTB, made them suitable for everyone who wants to try it. They can form small groups, consisting of either beginners or professionals and of course it is recommended for families.
In particular, they organize Quad Safari, Jeep Safari and MTB Adventure. Quad Safari lasts from about 4 to 6 hours and the distance being travelled is 65 to 85 kilometers, 80% of them being off road in all different terrains. Jeep Safari lasts about 8 hours and the distance is 85 kilometers. Lastly, the MTB Adventure is 25 to 60 kilometers. All the above that mentioned are combined with a visit to traditional villages where the authentic Cretan drinks and snacks are provided.
This alternative kind of outdoor activities is a good way to see the beauties of Crete, the picturesque and quaint landscapes and villages, all combined with the pure Cretan hospitality.
Should you need additional information please visit the Go Xplore Tours site.