Description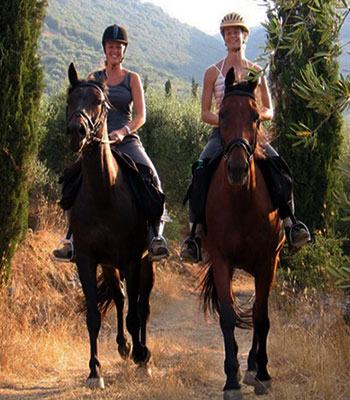 Odysseia Stables offers horse riding holidays in Greece, Crete island. It offers not only the stables but also an equestrian hotel for the accommodation of the visitors. Both of them are located at the same place on a unique hill near the village Avdou, overviewing the Aposelemis dam. The whole area is a picturesque one consisting of olive trees, of a Kermes oak forest and Avdou and Gonies villages providing space for an endless horse riding experience.
Odysseia Stables offers complete horse riding holidays as the Equestrian center and the Country Hotel are open all year round. The Country Hotel Velani offers a full board stay. The panoramic view, the swimming pool and the Greek restaurant with traditional dishes in combination with the horse riding can amaze those who want to live this unforgettable experience.
There are many other things that are provided during the stay at this place. Everyone can experience trekking, trail riding, day trips, 2 hour hacks and of course horse riding lessons in order for somebody to learn how to ride a horse. It is also offered Swedish massage, Thai massage and aroma therapy, paragliding for experienced pilots, bird watching and routes for walking or even biking.
In addition, one can choose the holidays that he/she wants. One can choose among guided and unguided Lassithi treks for a week (there are overnights to different hotels), Panorama Rides in order to be admired the Cretan nature, rides with 2 hour hacks and a week for starters in order to learn how to ride horses. Swimming with the horses in the Libyan Sea is also available.
Nevertheless, there is also the option of not staying in the hotel and anyone can visit the stables as a guest and ride the horses according to their level.
Odysseia Stables guarantees that this kind of holiday is the best way to experience the real Greece as everyone can meet the Cretans and Cretan hospitality, taste the traditional Greek food and all these in combination with the picturesque places and the breathtaking views from the back of a beautiful happy horse will offer an unforgettable experience.
Should you need additional information please visit the Odysseia Stables site.