Description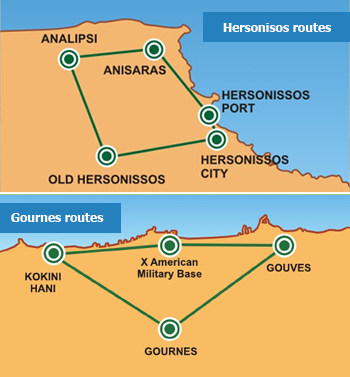 The Train Tour's company offers to anyone tours with trains – in some cases either with blue or with the red train. This tour is offered from spring until autumn and runs daily at specific hours, as announced by the company. These tours give the opportunity to each one to see the local area and feel the Cretan culture.
3 tours are provided. The first one is the "Village & City Tour", the second one is the "Traditional Crete Tour" and the last one is the "Gouves Tour".
The "Village and City Tour" lasts 100 minutes. It offers a pleasant tour through Chersonissos village (Old Chersonissos), through the cosmopolitan Chersonissos Port village and through beautiful beaches of Analipsi and Anissaras. During the tour and while admiring the picturesque narrow streets and churches, original Greek music is playing. It is also provided a mini commentary in 5 languages (English, German, Russian, Italian and French).
The "Traditional Crete Tour" is a half day tour. There is a steward on board and there is a commentary in English. This tour is being within the Municipality of Chersonissos in which everyone can admire the natural beauty of Crete under the live sounds of Cretan music in combination with the traditional raki.
The train drives by the biggest Golf Camp in Greece and the dam next to the river Aposelemis. It is also given the chance to everyone to walk through the narrow streets of many traditional villages such as Avdou, Gonies and Potamies admiring the many Byzantine churches of the area. Lastly, it is visited the area of Ambellou in which is a special type of Vulture that can be found nowhere in the world.
The third and last tour which is offered is the "Classic Tour of Gouves" which lasts 75 minutes. It is a beautiful tour under the sounds of original Greek music. The train drives by the ex-American base, by the largest aquarium in Greece and of course by the amazing Cretan beaches of Gournes, Gouves and Kokkini Chani.
Should you need additional information please visit the Train Tour site.