Description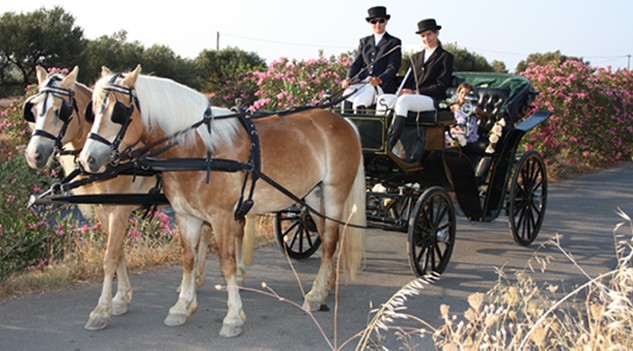 Arion Stables is a business run by a German-Greek family since 2007. George and Zara, motivated by the love for horses, inaugurated Arion Stables which is located in an idyllic location on a hill between the villages of Chersonissos and Analipsi, 2.5 km from the beach.
Arion Stables' premises consist of stables, a small tavern, a children's playground, 2 riding places and paddock boxes. There are many animals in Arion Stables too. Besides horses and ponies, there are also some goats, sheep, tortoises, turtles, guinea pigs, rabbits, cats and dogs. In addition to this, it has to be referred that George and Zara have rescued animals from starvation and those being ill and they have adopted them – something that proves the love they feel for animals.
Arion Stables offers different kinds of excursions. Accompanied by an experienced rider and riding guide, the riders according to their own tempo can see the beauty of Crete Island. In addition they offer guided adventure rides and of course more romantic ones like full-moon and sunset rides.
Their absolute highlight is a tour called Analipsi beach and Aposelemis Tour. Visitors will have the opportunity to see contrasting and picturesque landscapes as the route is organized in such a way so everyone will experience the sea, Aposelemis Gorge, an uphill route and will see a small Cretan village with few Cretans called Agriana, and all these on the back of a horse.
There are also carriage rides where a glass of Raki or Ouzo will accompany everyone on the carriage and some standard tours either through nature or through some traditional villages such as Chersonissos, Piskopiano and Koutouloufari. Horse riding lessons are also available for the beginners. Lastly, wedding services are also available as Arion Stables team is there to provide guidance and help in order to fulfill each one's wishes and ideas for that important day. The transportation is facilitated by Victoria carriages which are totally safe and new.
As far as the tavern is concerned, the visitors can taste traditional Greek dishes and food and they can drink traditional homemade drinks either outside, in the shade of a pergola (in the summer), or next to a fireplace (in the winter). Moreover, children will have the time of their life in the playground because there are many things to do.
Arion Stables guarantees that all guests will have the time of their life. The idyllic place, the kindness and love for the animals and the simultaneous safety and reliability they offer, will turn everyone's holidays into an unforgettable experience.
Should you need additional information please visit the Arion stables site.
No street view available at Google maps.