Description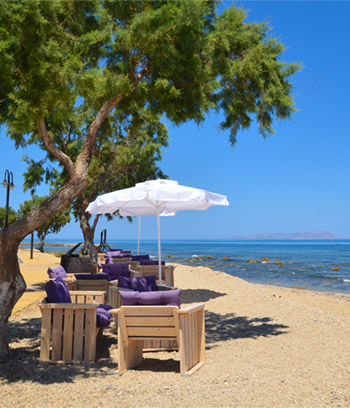 Analipsi village is located about 24 km east of Heraklion and belongs to the Municipality of Chersonissos. It is a beautiful tourist area that preserves several traditional elements. It is known as Analipsi of Chersonissos because it is very close to the popular Chersonissos Port which is only 5km away. As in many villages, the village of Analipsi was named after the church of the Ascension of Christ (Analipsis tou Christou) and thus the area Analipsi (Ascension) took its name.
The area of Analipsi was originally developed during the Ottoman domination. The settlement was called Svourou Metochi by the Ottoman squire Svouro, until 1981. After the Ottomans' departure from Crete, Analipsi was inhabited by the shepherds of the village of Agios Georgios which is located at the Lassithi Plateau. The shepherds needed a warm place for their animals when, during the winter months, the Lassithi Plateau was full of snow. The area began to grow as more and more villagers from the mountainous regions moved close to the sea and built homes.
Analipsi is less developed in tourist sector comparing to the surrounding areas. The main road of Analipsi crosses the area vertically from the Former National Road Heraklion - Agios Nikolaos and is approximately 1km to the beach. Along the street, there are tourist shops, supermarkets and car rental companies. The choices of restaurants and taverns in the village are numerous. There is also a beautiful paved square and a palm tree in the center. The visitor can walk among the traditional narrow streets of the old part of Analipsi village and enjoy the beautiful gardens as well as discover the beautiful places of the village.
In Analipsi, there are also several hotels and rooms to rent that meet the needs of the visitors while, simultaneously, the village of Analipsi is an ideal and quiet place for family holidays. The magnificent scenery and the crystal clear shores of Analipsi Beach will enchant the visitor and make its stay truly memorable.