Description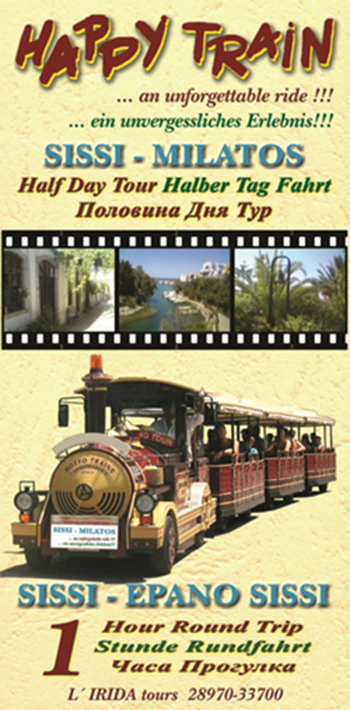 The Happy Train Malia offers tours with trains to anyone wants to live this experience. Visitors will have the opportunity to see Malia and the surrounding area with their important sights, experiencing, simultaneously, the Cretan culture.
There are many tours available. First of all, there is Krasi tour. The tour to Krasi is available on Sundays, Tuesdays, Thursdays and Saturdays starting at 9:50am. In addition, there is the Mochos tour which is available on Mondays, Wednesdays and Fridays starting at 9:40am. Happy Train, apart from the daily organized programs for local round trips and half day Mountain tours, provide visitors the chance to book private tours or even to organize a wedding tour, where the train is decorated in a special way for this special day.
The Happy Train offers a more relaxing way to see the sights of Malia and the surrounding area. There are stops during each tour where visitors can either take photographs of the picturesque Cretan landscape or taste the local Cretan cuisine in the villages of the Municipality of Hersonissos.
For additional information please visit Happy Train 's facebook page.