Description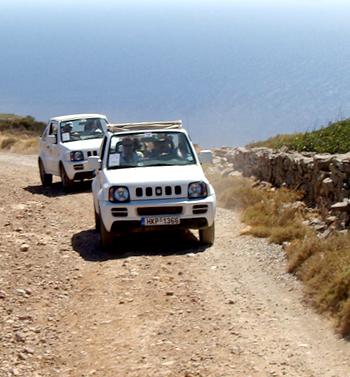 Having passion for nature and adventure, Exploring Club offers, for over two decades, Jeep Safari and Outdoor activities in Crete.
Exploring Club provides suitable tours for everyone, either young or old, either alone or together. The Safaris are organized from April 1st until the 28th of October and their goal is to explore remote Cretan beaches and unexplored and unique places- a distinctive feature of Cretan landscape.
Exploring Club offers Daily Tours with Jeep and Jeep Safari for Groups.
As far as the daily tours are concerned, each one can choose a Jeep Safari to Crete's Mainland, a Jeep Safari to Preveli Palm Beach or a Private Jeep Safari to South Crete. All the above mentioned safaris offer a tour on Cretan wildlife, on villages where everyone can taste traditional Cretan food. The Private Jeep Safari is a different experience where each one can have an experienced driver and visit places not accessible to everyone.
Concerning the Jeep Safari for Groups, there are five different types of it. The first one is a classic Jeep Safari which consists of minimum 20 persons to maximum 120. This offers a tour through villages and fields and through picturesque landscapes where each one can take photos, taste the traditional Cretan cuisine and discuss with locals. The next type is a Mini Round trip of Crete consisting of minimum 4 persons to maximum 40 ones. This provides 4 days to 4 destinations from west to east and from north to south. It's an alternative touring through exciting and remote places.
Afterwards the other type is the Roadbook Safari consisting of minimum 20 persons to 80. It provides a totally different experience in which each jeep is a team of 4 people. The goal of this is to follow the guidance and reach the destination before time expires in order to get points and be the winner. The fourth type is a Treasure Hunt Safari consisting of minimum 20 persons to 80 ones and the goal is to meet with the tradition and explore the places in combination with adventure and fun. Each jeep is a team. It will be given a certificate of attendance.
Lastly, the last type is the VIP Safari consisting of minimum 1 person to maximum 6 ones. It is provided a luxury 4x4 vehicle with an experienced driver who leads each one to places one wants to go.
In this way, one can easily explore the Cretan landscape and have an amazing time by all these activities being available.
Should you need additional information please visit the Exploring Club Crete site.