Description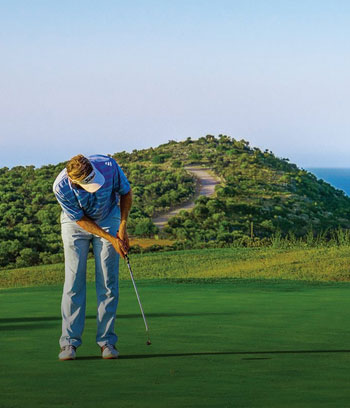 Crete Golf Club is located in Chersonissos Municipality, 30 km east of Heraklion on the provincial road of Chersonissos - Kastelli. It is an 18-hole golf course of international standards, originally designed by the golf course architect, Bob Hunt, in 2003. In October, 2015, the Crete Golf Club reopened after an extensive upgrade and became the next hot European golfing destination, being fully equipped.
The course can fulfill everyone's needs and desires while, at the same time, the golfers can experience an amazing sense of freedom and tranquility as they can view the Lassithi Mountains. In this large area, the architects have tried a lot to maintain the distinctive features of the natural Cretan landscape and to protect the environment preserving simultaneously many ecologically friendly features. Moreover, due to the mildest climate in the Mediterranean, golfers can play golf all year round even during the hottest days in the summer.
The Crete Golf Club can also teach to children aged 5-16 years old the secrets of golf in a safe, reliable and efficient way. The children can experience the sports ideal, such as emulation and fair play, have the chance to participate in special golfing courses which are organized by Christos Nikopoulos who is a former Green Champion and certified PGA Professional, and to take part in several tournaments.
In addition to the above, the Crete Golf Club provides a Pro Shop at golfers' disposal where visitors can find everything they need, either for the golf game or the latest trends in fashion with a wide selection of the world's most prestigious golf brand names being available.
Moreover, there is the Club House Restaurant where one can have a complete meal and light snacks or a refreshing beverage relaxing in this magnificent setting. For those who fancy a drink there is an outdoor Veranda Bar viewing over the Golf Course. Lastly, the spacious 120 m2 terrace with several seats attracts numerous players daily in order to watch their favorite sports program while drinking beers and having fun.
The Crete Golf Club is the only one on this island with international standards. It presents fascinating new challenges providing safety and guarantees everyone's fun and entertainment in a picturesque place.
Should you need additional information please visit the Crete Golf Club site.