Description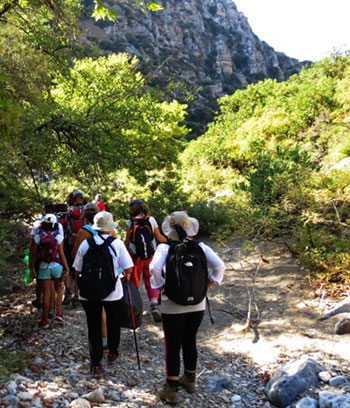 One of the most important gorges of Eastern Crete is Aposelemis Gorge which is located near Chersonissos. The Aposelemis river runs along the bottom of the gorge and springs from the Lasithi Plateau flowing into the sea between the areas of Analipsis and Kato Gouves in the Municipality of Chersonissos.
The name Aposelemis (Abou Selim) is one of the few Arabic words that are still preserved in Crete. Probably, it was the name of an Arab who acted in the region during the Arab occupation.
It is a small but impressive gorge in a picturesque landscape of natural beauty and dense vegetation. Aposelemis Gorge starts from the area of Agio Pnevma (Holy Spirit) at Xerokamares on the provincial road of Chersonissos - Kastelli and reaches up to the height of the village Agriana, in the area of Analipsis. It is 4 km long and its direction is from South to North. At Xerokamares, the visitor can see the imposing remains of the ancient aqueduct of the area that supplied Chersonissos with water.
The first part of the gorge looks like a very narrow valley through which the river flows. Progressively, its slopes are becoming more and more impressive because of the geological formations that rise on its slopes and attract the attention of the visitor. In addition, at some points, the slopes are almost vertical, reaching the height of 150-200m.
At the point of Agriana, a picturesque valley with olive groves takes the place of the gorge which finally ends at the mouth of Aposelemis river, on a beautiful sandy beach. At the mouth of the river, an important wetland is created, where many migratory birds find shelter throughout the year.
The gorge is of particular natural interest, since along the gorge, there are plane trees, walnut trees, evergreen oaks, oaks, carob trees, wild olive trees, Jerusalem sages and many herbs such as oregano, sage and others, which are perfectly combined with the vegetable gardens and olive groves of the area.
Moreover, the Aposelemis Gorge is a shelter for many species of animals and birds. The main species of the fauna of the Aposelemis gorge are the hedgehogs, hares, martens, blackbirds, wild pigeons, sparrows, lizards etc.
The hiking route through the gorge is easy. It is suitable for all ages and is ideal for families with young children while its duration is about 2.5 hours. The Municipality of Chersonissos has created a very beautiful path along the riverbed as well as a recreation area on both the south and north side of the gorge, so that the hikers can rest.The hiking route is available at wikiloc as recorded by the Mountaineering Club of Heraklion.
Photos by Nana Koutsandreou, member of Mountaineering Club of Heraklion. More photos from Aposelemis Gorge are uploaded at Nana Koutsandreou's album.