Description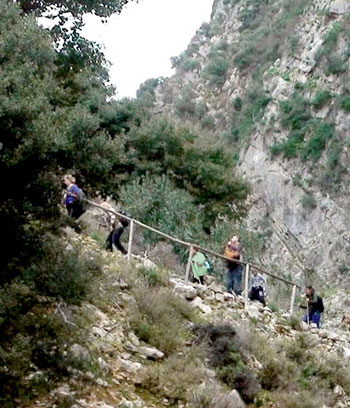 The Roza Gorge is located in the Municipality of Chersonissos and specifically on the western slopes of Mount Dikti. It starts from the southeast part of Gonies village at an altitude of 300 meters, ends at the village Kera at an altitude of 670 meters and is 2,750 meters long. The Roza Gorge is an offshoot of Ambelos Gorge and the route through it is relatively easy with a few difficult parts. The slope of the canyon is quite large and thus it is characterized as a mountaineering route. The time required for passing the gorge is about 2 hours and there is a well-formed hiking trail which in many parts has wooden columns for hikers.
As most gorges in Crete, Roza is dry in general, except for some periods of time, like in spring, when snow melts, and in winter after rainfall. Its features are special according to its wildness and natural beauty. The unique beauty of Roza Gorge, according to geologists, is due to its walls that were formed in the sea at a depth of more than 4000 meters, 150 million years ago. The walls are composed of brownish-red limestones and the geological formation of the rocks is impressive. Probably this gorge was named after the pink (roz means pink) color of its walls.
Over 120 species of plants, mainly plants that grow on cliffs and a lot of birds can be found in this gorge. On the vertical slopes of the gorge, vultures, hawks and partridges have got their nests. The rich biodiversity of the gorge consists of kermes oaks, Cretan maples, maples, haws etc. The riverbed is full of oleanders while the aromatic herbs such as sage, thyme and oregano are abundant.
The route is totally impressive. At some point the path leaves the riverbed and climbs onto the uphill slope. The path becomes dangerous at some points and thus it is protected by wooden railings. Shortly before reaching the exit and onto the vertical rocks, there is a narrow and dangerous passage which almost hangs on to the cliff. At the end of the steep ascent, there is a wooden gazebo in which the visitors can relax and have some rest by admiring simultaneously the awesomeness of nature. The hikers can admire the magnificent view and observe the impressive flying of the canyon birds.
Afterwards, there is a downhill route on the old path. The hikers are able to see the remnants of the old cobblestone path which is hidden within the vegetation. This old path connected the villages of Heraklion with the plateau of Lasithi even from the Minoan era. This route is characterized as very impressive and interesting by mountaineers and even by the visitors who were lucky enough to be there.
If you enjoy hiking, you can download and follow this route to visit the Gorge of Roza.
No street view available in Google Maps