Description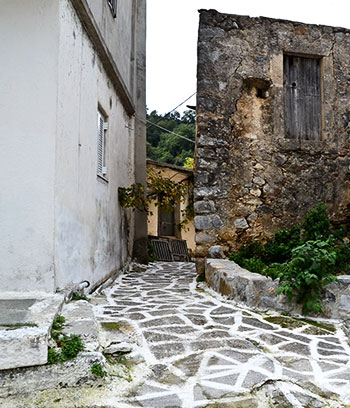 Kera is a traditional village, 50 km southeast of the city of Heraklion and 25 km of Chersonissos village, in the hinterland of the Municipality of Chersonissos. It is the last mountainous village at the limits of the Municipality at an altitude of 680 m. It is located on the provincial road of Heraklion - Lasithi Plateau. Due to its location, the village offers a wild and yet imposing atmosphere with important and interesting attractions. It is built in the abundant spring waters of the area and in a verdant valley (the creek of the Virgin Mary). According to tradition, the inhabitants of the village were millers but with the passage of time and the evolution of technology this profession was disappeared. Thus today, their mainly occupation is olive cultivation and they are famous for the excellent quality of oil they produce.
The village consists of two small settlements, Kato Kera and Apano Kera and was named after the monastery of Panagia Kera or Kardiotissa, located to the north of the settlement. The Monastery of Kera (9th century) is a historical and ecclesiastical monument with remarkable frescoes inside it, a place of worship and the center of the revolutionaries of eastern Crete against all its conquerors.
In the places of Karfi hill and Papoura hill (1.026m altitude), remains of pre-Hellenic cities and traces of a Minoan sanctuary of the Late Minoan period have been found. Because of its location, the village, according to older sources, was referred to as "Minitis", because in this place the guards were informed of the presence of the enemy while, in documents of the Venetian occupation, it was mentioned as Mesomouri.
Outside of the settlement of Kato Kera, there is Apotiposi, which is a large rock with a natural representation that reminds the figure of the Virgin Mary. Just below this rock, the church of Zoodochos Pigi is located. Opposite the church of Zoodochos Pigi, the gorge of Empasa, which is a branch of the gorge of Ambelos, and the homonymous waterfall are situated. A hiking trail connecting Kera village with Gonies village begins at the gorge of Embasa. At this place, the Windmills dominate and in combination with the magnificent views of Lagada from the east and the Lasithi Plateau from the west, make up the imposing scenery.
Lastly, the village with its picturesque cafes and its hospitable inhabitants is an ideal destination for those looking for relaxation and the view of unique landscapes. In the square of the village, the visitor can relax and enjoy the famous traditional dishes, wine and tsikoudia.