Description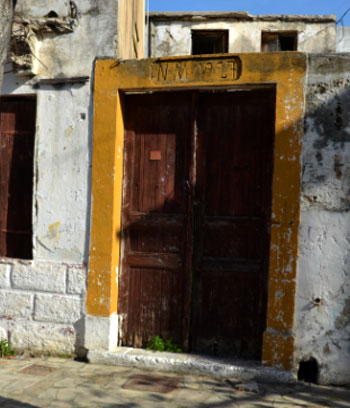 Elia village is located 12km southeast of Heraklion in the hinterland of Hersonissos and is just 4.5km from the seaside village of Kokkini Hani. Elia village is built on a hill at an altitude of 230m, offering visitors panoramic sea view. According to the latest census, 1,000 inhabitants reside in the village. The main occupations of the inhabitants are olive cultivation, viticulture and livestock farming. In the area, oil, wine and raisins are cultivated and produced. In the Venetian censuses in 1583, the village of Elia is referred to as Elia and Glia with 346 inhabitants. During the Ottoman domination, many Turks lived in the village. In 1866, a powerful Turkish body managed to penetrate the village and pillage it, but before they gained their prey, they were hit by rebels and 25 people were killed.
Elia is a beautiful village spread over a verdant, green slope with aromatic plants and colorful flowers, with ancient olive trees and carob trees, and resembles a small village hidden in Cretan nature. At the entrance of the village, there is the central square that is paved with setts and there, during the summer months, various events and feasts with food and dancing take place gathering a lot of visitors, locals and foreigners. In the center of the village, the church of Agios Panteleimonas, dating back to 1911 and being the protector of the village, is located. Every year, on 27th of July, a feast for celebrating Agios Panteleimonas is organized. The old church of Genesio of the Virgin Mary is worth visiting and is located within the settlement. It is a large one-storied church, restored in 1901, with unique mosaics, interesting frescoes and an impressive wood-carved iconostasis made from parts of the iconostasis of the temple of the Savior that existed at Valide Tzami at Kornarou square in Heraklion.
In the settlement, on the southern side of it, there is an old reservoir, while above it there are 4 stone wells, which have been built since 1950, and a metal mill in the middle of them. The rainwater was gathering and falling into a channel that drove it into the wells from where the villagers took the water gathered. The visitor can rest in the renovated area between the running waters of the fountains and the landscape full of oleanders and pine trees.
One of the most important places of interest for the visitor, on the eastern slopes of the Karteros valley, is the Eileithia cave or "neraidospilios". Just outside the cave, buildings of the 14th and 13th centuries BC were found and were the priests' residences, according to Marinatos. Archaeological findings of women during childbirth, breastfeeding or prayer are exhibited at the Archaeological Museum of Heraklion.
In 1903, the archaeologist Stefanos Xanthoudides found a carved stone tomb dating back to the Late Minoan era, which is 1.20m and contains skeletons preserved in good condition, in the location of Artsa, between Elia and Kato Vathia.
Attributes
Travel activities

RECREATION, Villages

Location Gouves Region

/

Elia
Listing categories

RECREATION