Description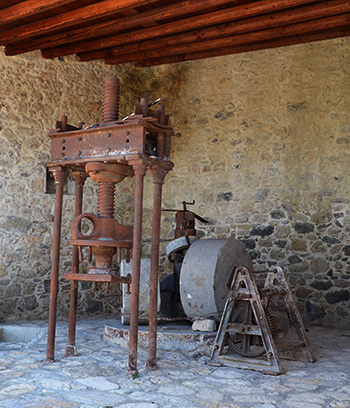 Sgourokefali village is located 18 km east of Heraklion city and 10 km from the nearest beach (Amnissos Beach). The village was named after the geophysical landform where it was built as it is situated on a hill with a wonderful view and at an altitude of 330m. According to tradition, the name of the settlement is due to a shepherd named Sgouros. He was the first inhabitant of the settlement who built his house on the top of the hill which Cretans call "head" (kefali). From this fact, the village named Sgourokefali, ie the kefali (head-top of a hill) of Sgouros. It is a settlement with 444 inhabitants in the census of 2001. The main occupation of the inhabitants is vine-growing and olive-growing. So in this region, raisins, oil and wine are produced.
Sgourokefali was first mentioned in 1577 by Barozzi, while in the Venetian census of 1583 the village was referred as Sgourochieffali with 62 inhabitants.
In the central square of the village, the visitor will see the monument on which there is a list with victims of the Second World War. On the beautiful, stone-paved square with stone blocks, there is a stone fountain in the place of which there was an old well. The square is a place of relaxation for the residents and visitors during the summer months and also of entertainment, since the square hosts all the social events of the village. Opposite to it, there are traditional cafes in a green area in which the visitor can relax and enjoy coffee or raki.
In the village, there is also a temple dedicated to the Holy Trinity and the Annunciation and every year on 9th of June, the patron saint of the village is celebrated and a feast in the square of it follows. Near the village, the churches of Agia Marina, Agios Georgios, Agios Ioannis and Metamorphosis (Transfiguration) are located. In those churches, old frescoes are preserved in good condition.
At a distance of 1300 meters, west of the settlement, the visitor has the opportunity to walk to the beautiful and unique Karteros Gorge which was named after the river of Karteros which runs along the gorge in a distance of 22 km. The area is acceded to the network of Natura 2000. The gorge is ideal for hiking and cycling in the wonderful nature. Sites of historical and cultural importance have also been identified in the gorge, such as ancient Eltyna, the Minoan settlement of Myrtia and the Minoan cemetery of Astrakoi.