Description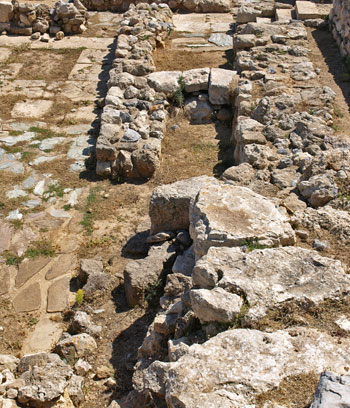 The archaeological site of Amnissos is located at Karteros village, 7.5 km east of Heraklion at the foothills of the Paleochora hill. It is an ancient city, which, according to the geographer and historian Stravon (64BC – 24AD), was used by King Minos as the port of Knossos and is another example of Greek civilization.
The habitation of Paleochora (Amnissos) dates back to the Middle Minoan period (19th century BC). In 1932, the archaeologist and academic, Spyridon Marinatos, discovered a Minoan Mansion named "Villa of the Lilies" due to the lily wall paintings, which, unfortunately, was destroyed by fire in the 15th century BC. The villa had paved rooms, a bathroom, stairs, a sanctuary, a kitchen and a storeroom. For its construction, lime stones were used for the wooden columns or as building blocks in buildings. In the "Villa of Lilies" the floors were made of phylite rocks coming from Achlada - Rodia area, west of Heraklion.
In this area, there is a building also known as mansion, located on the northern part of Paleochora hill and is covered with rocks. In addition, there is a settlement of the Late Minoan era, a part of which is submerged into the sea and it was divided into two parts – the eastern part where the storerooms were located and the western part where the sanctuary was. These were inhabited until the 12th century BC.
During the Archaic Period, in the 7th century BC, the sanctuary of Zeus Thenatas was built at the western foothills of the hill as documented by inscriptions of the Hellenistic and Roman times. It is the only part of Amnissos in which there was a building activity after the destruction of Knossos and remained in use until the 2nd century AD.
The monument was seriously damaged by the German soldiers during the Second World War.
Should you need additional information please visit the relevant page of the Ministry of Culture.
Attributes
Travel activities

Archeological Site, CULTURAL

Location Gouves Region

/

Amnissos
Listing categories

CULTURAL