Description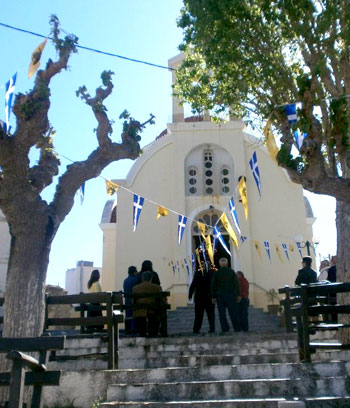 The Epano Vatheia village is located in the valley of Vathianos Kampos at an altitude of 260 m in the hinterland of the Municipality of Hersonissos and is just 15km southeast of Heraklion. It is a traditional village where its inhabitants are mainly active in the agricultural sector. They produce excellent quality olive oil, wine and grapes.
The settlement is very old. It is referred to a document of 1271 by the Chandax notary Pietro Scardon as "Panno Vathia". It is also appeared under the name of "Apano Vathea" in a document of 1394. Epano Vatheia was used as a bastion by the Ottomans. The Turks used the village as a base for their war operations in the Province of Pediados. The 1881 census is typical. In the settlement, 225 Turks and only 3 Christians lived. After the Turks left, the village was almost depopulated. However, the arrival of the refugees set a new start for the village whose population increased in the coming decades.
Entering the village, the picturesque square right in front of the Church of Agios Georgios is worth-seeing. It is a small and paved square with mulberry trees and poplars providing a cool place under them and in combination with the traditional cafes offer a picturesque atmosphere. During the summer months, various events and celebrations take place at the square where local people and visitors can enjoy local dishes, drinks, music and dancing.
A walk in this picturesque village will surely relax guests. The old cisterns, the troughs, the old wells and the old flour mill adorn the village and people's mind can travel back to the time of tradition. The area is overgrown with plane trees, olives and orange trees. The old church of Agios Antonios is worth-visiting. It is an 18th century church built in the place of an older and smaller church with remarkable frescoes.
Concerning the sightseeing, the Porofaraggos Gorge is located in this area. Porofaraggo or Sfakoriakos is a small gorge of almost 2km, starting from Kato Vatheia and ending near Vrahokipos. Inside this gorge, the Krommidias River, whose waters flow into the beach of Kokkini Hani, passes. The gorge is easily accessible and safe for walking while its vegetation is generally low with oleanders, thymes and briers and on the slopes, there are a few pines found.