Description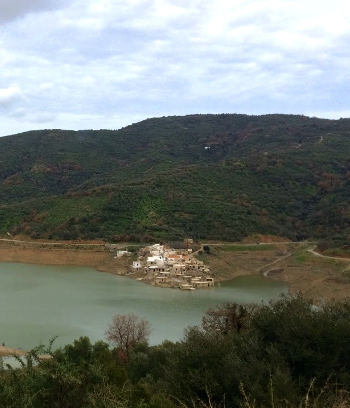 Aposelemis Dam is the largest water supply project in Crete, close to Potamies village and Avdou village. It was constructed in order to solve the vital needs for water supply and irrigation in the north part of eastern Crete, specifically from Heraklion to Agios Nikolaos, Lasithi. The construction was completed in 2012.
The dam gathers the waters from the Lasithi Mountains and its capacity exceeds 30,000,000 m3. This is the largest technical lake of the island. Nowadays, various species of birds have been sheltered in the dam, turning the area into a wetland.
The dam is a source of life and a vital factor of growth in the area, as the surrounding villages and the dam receive visitors being mesmerized by the scenery. It is the ideal destination for visitors and they can take walks in nature by having simultaneously, a view of the tranquil landscape of the sunken Sfentyli village.
Sfentyli was located within the confines of the artificial lake of Aposelemis Dam and the residents of the settlement had to leave the place, so they have been compensated for their properties, by the state. As water level goes up and down, Sfentyli disappears and appears. This attracts many visitors particularly when the water goes down.
The settlement dates back to the 16th century and the earliest evidence of the existence of the settlement dates back to 1577 on the list of Fr. Barozzi. In 1583, it is referred as Sfendigli with 78 residents by Castrofilaca. The name of the settlement is antroponymous. The family name Sfendilos is found in Crete and certainly the first inhabitant of this settlement would have this name. Recently, 65 skeletons were found near this area by the archaeologist Athanasia Kanda and according to the researchers, they probably came from a Minoan cemetery.