Description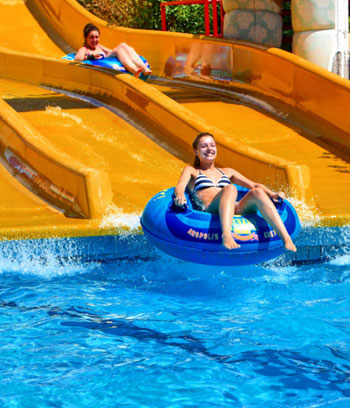 Watercity Waterpark is a huge water park promising young and old endless hours of water play. It is located in Anopolis village, 17 km east from Heraklion and 25 km west from Malia, covering an area of 50.000 square meters. Watercity Waterpark provides also comfortable and free parking lot.
Entering the Watercity Waterpark and passing by the reception, one can see the swimming pools, water slides, children's pools, playground, bar, restaurant, souvenir shop, Boutique, Beauty Salon etc. The numerous games in this park aim to raise adrenaline rush offering moments of laughter and fun. Fast falls and endless slides with rotations and closed tunnels are totally breathtaking.
For those who want to relax and calm, there are mild water facilities to try. Watercity Waterpark has well-trained and qualified security personnel for acting immediately dealing with any problem and ensuring the visitors' safety.
In addition, in the Watercity Waterpark area, there is a specially designed room (changing room) and lockers to protect personal items. The souvenir shop, the Beauty Salon and the Boutique are also found there to provide extra facilitations for the visitors.
Watercity Waterpark provides an impeccable service and offers a choice of what exactly each one wants, concerning food and drinks. In the various bars and cafes' of the water park, one can enjoy coffee, fresh juice or refreshments and of course the food or snacks they want to consume in a cool and unique environment.
At Watercity Waterpark, in general, play, coolness and unforgettable moments of relaxation and carefreeness must be taken for granted.
More specifically, it includes:
• Wave pool: a pool with artificial waves, the largest in Europe, producing waves travelling from side to side and parallel, reaching 1.5 meter in height, going in 5 different directions.
• Children's slides: 5 suitably designed slides for young visitors.
• Children's pools: 2 water playgrounds for children.
• Lazy River: it is 385 meters long and visitors of all ages can have fun in this relaxed way, round the river.
• Body Slide Cyclone: for fast dives in a water cyclone.
• Hydro Tubes and Free Fall: a quick fall from the slide into the pool by eliminating gravity.
• Turbo Guns: for the most daring, there are open and closed type slides with long distances and fascinating speed.
Should you need additional information please visit the Watercity Waterpark site.