Description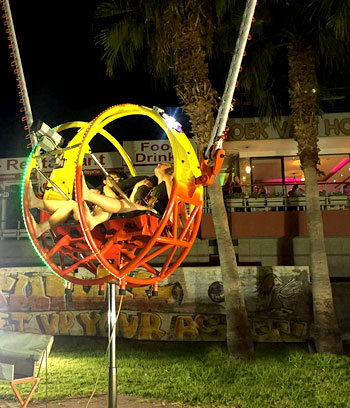 Kartland is located in Chersonissos Port village, opposite Starbeach Water Park and it has operated since 1997. It is designed based on European specifications. The staff of Kartland is highly trained and the security and service are taken for granted for customers.
First of all, there are three categories of go karts – the go karts for adults (200cc, 6,5hp), the mini go karts (120cc, 4,5hp) and the double seat go karts (200cc, 6,5hp). In this way, everyone can participate, either being an adult or a child. All go karts are electronically controlled by the Kartland staff and thus the safety and the operation of the place are guaranteed.
Moreover, the Bungee Rocket-Catapult is located in Chersonissos Port village opposite Kartland and Starbeach Water Park. It has operated since 2000. This catapult can launch everyone interested at a height of 150 feet. It is a 5G catapult that will raise everyone's adrenaline providing simultaneously the safety needed.
Next to the Bungee Rocket-Catapult is Golfland. It is a mini golf and has operated since 1998. There are 16 small and different games that one can enjoy. The games have got nets, holes, bridges, pipes, tunnels and many more.
Lastly, at Dimokratias 30, in Chersonissos Port village, visitors can find a store where they can rent "trekker" – electric bikes and scooters- in order to have a stylish personal electric transport by having a fast paced, young and environmentally friendly life style.
Kartland invites everyone to experience these amazing activities by having fun and the adrenaline rush in high levels.
Should you need additional information please visit the site of Κartland .