Description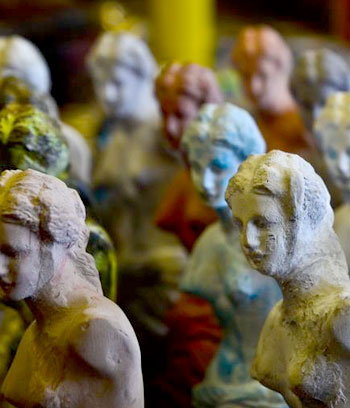 Handicraft Park is located in the area of Anopolis, above Kokkini Chani in the Municipality of Chersonissos. It is a different park where visitors can learn crafts that come through centuries of history and are related to the traditional professions of people engaged in folk art. They are professions that give special characteristics to our island, Crete. They are professions embodying craftsmanship and the passion of their creators into artistic crafts, transferring valuable experiences from generation to generation. These crafts are based on talent, experience and tradition that worth to be preserved and spread.
The Anopolis Handicraft Park has been operating since 2005 where 22 craftsmen have been there in order to create ceramics, metal statuettes, hagiographies, worry beads, wefts, traditional barrels, leather items, knives, wood carvings, glass constructions, traditional items made from plaster casts, T-shirts etc. Those craftsmen put their works up for sale in shops all over Greece and in tourist market while some also carry out exports.
The visitor can take a guided tour to some businesses in the Handicraft Park where there is also the opportunity to be present to a speech being given by craftsmen concerning their crafts, see the inside part of the workshop and participate in the production process. All the items are sold at affordable prices.
The coexistence of these various handicrafts in the Anopolis' Handicrafts Park contributes to the protection and promotion of cultural values and to the improvement of productivity by providing solutions of the housing, organizing and promoting of the above mentioned activities.
To reach the area, you go to Kokkini Chani and then drive uphill towards Anopolis village and Water City water park. Before reaching the village you have to turn left to find the area of the artists' workshops.
The visit to Anopolis Handicraft Park can be combined with:
1. Nice swimming and relaxing time at a beach nearby. There are several to choose from :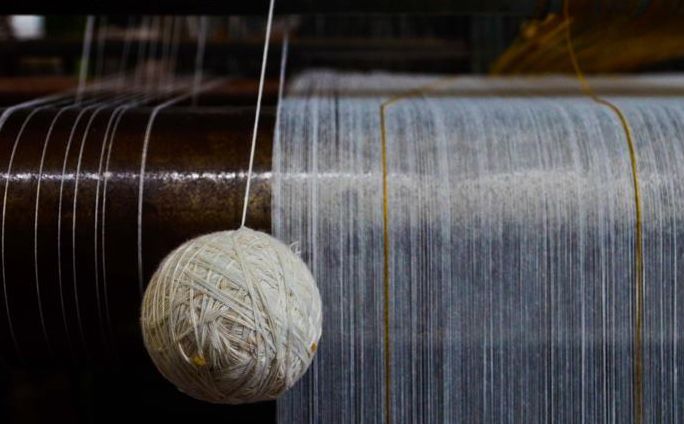 - Karteros Beach,
- Tobruk Beach,
- Estavromenos (Arina) Beach,
- Vathianos Kampos Beach,
- Kokkini Chani Beach,
- Gournes Beach,
- Gouves Beach.
All of them are sandy and have crystal clear water. Some of them have umbrellas and sunbeds but you might have to pay to use them or consume some food or drink instead.
2. Visit the Water City water park.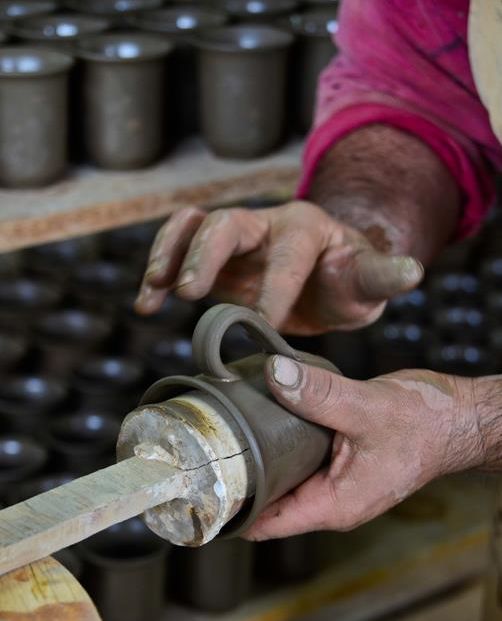 3. Lunch at some tavern at Anopolis combined with a small walk around the village
4. Visit churches and monasteries at the region :
- Agios Ioannis Theologos Monastery at Anopoli,
- Kera Eleousa Monastery at Voritsi,
- Genesio tis Theotokou (Nativity of Mary) at Elia,
- Agios Konstantinos and Agia Eleni at Kato Gouves,
- Agios Nicolaos and Agios Charalambos at Skotino,
- Agios Vasileios at Charasso,
- Agios Kirikos and Agia Ioulita at Koxari, to name a few.
5. Visit the archeological sites close by:
- Archeological site of Amnissos by the sea,
- Eileithia cave at Amnissos, or/ and
- Minoan Palace Nirou Chani near Kokkini Chani.
6. In case you like hiking, you can walk along Karteros Gorge starting from Karteros and go towards the inner of the area up to 21.5 Km to reach Agies Paraskies village, at the area Colomodi and the small church of Profitis Elias (Prophet Elias). But you can do smaller parts of the route and exit to nice places and villages of the area. For further details please visit our relevant page Karteros Gorge.
7. Close to Skoteino village you can visit the cave of Skoteino that is believed to be dedicated to the goddess Artemis by ancient Greeks.
8. Last but not least, a visit to Crete Aquarium Thalassokosmos is a must!