Description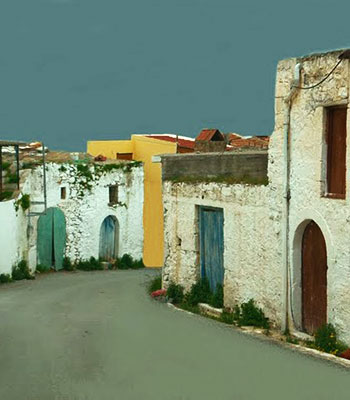 Anopolis is located 17km east of Heraklion and 3 km south of the Kokkini Hani coastal road. It is located at an altitude of 205m offering great views of the city, as well as the beaches southeast of the village. The area is characterized as lowland with 4600 acres of arable land and the inhabitants are engaged in agriculture growing vines, olives and vegetables as well as livestock farming.
The earliest name mentioned is referred in a contract of 1271 and this place was referred to as "Anopoli". Reference is also made in 1577 in the province of Pediados by Fr. Barozzi. Anopolis is a traditional village that manages to keep intact the authentic character of the Cretan village, without being mutated by the continuous tourist development. It is a village with narrow cobblestone streets, yards full of flowers, abandoned old houses and a central square where the church of Agia Triada (Holy Trinity) and the monument in honor of the freedom fighters are found. In the traditional cafes of the village, the visitor can relax and enjoy Cretan dishes and drink their coffee.
A place worth-visiting in the southeast of the village of Anopolis in a green valley, is the monastery of Agios Ioannis the Theologian (Saint John the Theologian) built on the estuary of the Aposelemis River, a few kilometers north. However, due to the fear of the continuous incursions made by the pirates in the 15th and 16th centuries, the monks of Agios Georgios took Agios Georgios' icon, which is still preserved, and settled in the monastery of Agios Ioannis (Saint John) the Theologian in Anopoli. According to testimonies and traditions, there was a "Krifo scholio" (secret school) that operated there. The actions of the monastery during the revolutions for the liberation of Crete were also of a significant importance. Because of these actions of the monastery, the Turks slaughtered all those who have been found in the monastery and in the village of Anopolis and destroyed the monastery, in July 1896. Later, the abbot Kallinikos Daskalakis (1904-1936) reestablished the Monastery. You can read detailed information about the monastery at the relevant page.