Description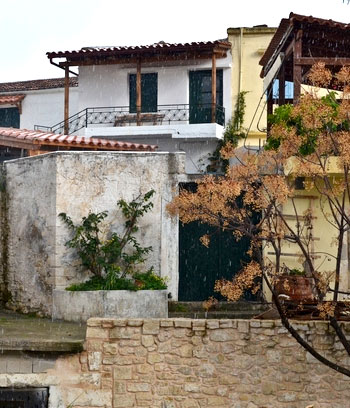 The village of Stamnioi is 17km southeast of Heraklion and just 7km from the seaside village of Gournes in the Municipality of Hersonissos. Stamnioi is a beautiful and picturesque semi-mountainous village at an altitude of 290 meters. It is referred that it was the oldest village of the area under the name of Istamnos. This is confirmed by the ancient objects that have been found in the museum of Heraklion. In a historic contract dating back to 1271, it was named Stamio and in 1583, it was referred as Stamnus with 197 inhabitants.
In the center of the village of Stamnioi, the visitor will see the beautiful square dominated by the impressive Church of Sotiras Christos (the Savior), dedicated to the Transfiguration of the Savior, to Agia Aikaterini and Agia Paraskevi. The church dates back to the 13th century and there are a few samples of wall paintings saved.
The central square of the village is located behind the church of Sotira Christos. It is a paved square with large flower beds having lovely flowers as well as stone benches for the visitors to get rested. There are also several traditional cafes where guests can relax, taste Cretan dishes and have a wonderful time. In Stamnioi, there is also the monument in honor of the villagers that were killed in the Second World War. In the area of the monument, there are various events as well as the summer feast for Afentis Christos that take place. Specifically, the feast takes place on 2nd or 3rd of August every year. Opposite the church of Afentis Christos, there is a traditional stone fountain and a well while the surrounding area is full of oleanders, eucalyptus, walnuts, figs and olives that embellish the whole scenery.
In addition, the visitor will see within the village the "Pyrgos" (Tower) which is a Venetian two-story building that is dominated by embrasures at its top and is believed to belong to a local feudal lord. Nowadays, the 'Pyrgos" is in a very good condition and is used as an ordinary house.
The village, in general, is worth-visiting due to the picturesque and cobbled streets with its stone-built houses having whitewashed yards surrounded by flowers and of course for the hospitable inhabitants.