Description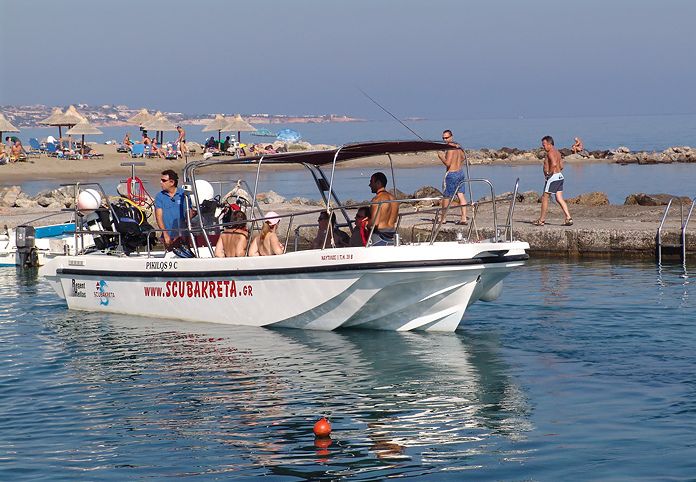 SCUBAKRETA diving center is a professionally run diving center, officially licensed by the state, located in Chersonissos Port village. It has been operating at Nana Beach Hotel since 1990 and provides high standards of diving education and high quality on recreational diving.
George and his SCUBAKRETA team are ready to provide everyone with an unforgettable experience. The members of SCUBAKRETA team can communicate in Greek, English, German, Dutch, French, Russian and Italian. There are boats and diving equipment for divers and thus it is facilitated the whole diving process.
There are 24 diving sites available for all diver levels and either on shallow or deep waters. The divers either certified or not, are organized in small groups and each group consists of divers with almost the same diving experience and diving education.
Concerning the diving sites, it is known that Crete has many diving spots. Therefore, SCUBAKRETA diving center organizes diving to these spots, carefully planned. Some of them are only for experienced divers while some others are suitable for everyone at any level.
As far as the Diving Education is concerned, SCUBAKRETA diving center invites everyone to learn skills and acquire knowledge by attending full certification courses. "PADI Scuba Diver" or "Open Water Diver" courses are available for divers in order to get a certification and be internationally recognized as certified divers.
Moreover, for already certified divers there are many courses available. The "Advanced Open Water", "The Oxygen Provider" and the "Rescue Diver" are some of them. Lastly, for those who want to become professionals in diving business, they can attend the "Dive Master" or the "Instructor Development Course".
SCUBAKRETA diving center guarantees that this experience will be for a lifetime while the safety and fun have to be taken for granted. In this way, those who are interested in such an experience will combine knowledge, skills and fun in an amazing experience into the Cretan waters.
Should you need additional information please visit the SCUBAKRETA Diving Center site.