Description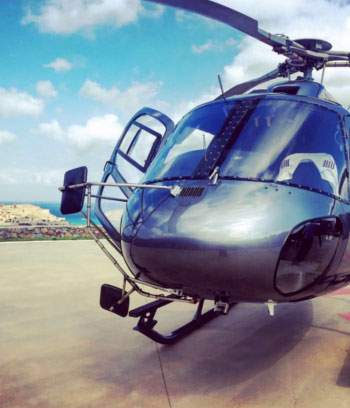 HeliAlpha is an Austrian Company having a branch office in Greece. Their main base is in Chersonissos Port village, in Crete and the temporary one is in Santorini. There are also two external bases, one in Athens and one in Mykonos.
Their fleet consists of three Airbus Helicopters that are up to 5 passengers. Those helicopters can be used for the passengers' pleasure, for commercial services and for public ones.
Concerning the passengers' pleasure, HeliAlpha provides island trips in order for each one to see another Island or to stay there for a while. There are many destinations such as Santorini, Mykonos, Rhodes, Athens etc. and there are many departure spots depending on the destination itself. Also helicopters can be turned into air-taxis and transfers to hotels can be facilitated. Some hotel transfers include the hotels in Elounda, Aghia Pelaghia and Milatos.
Moreover, HeliAlpha provides excursions to some of the most amazing places in Crete that in the majority of cases can be approached only either by car or boat. Some of the destinations are Chrissi Island, Samaria Gorge, Elafonisi and Vai Palm Beach. What is more, they provide sightseeing tours to Crete and Santorini. The passengers have the option to choose some of the standard routes or to suggest an individual tour by themselves. Shop is also available for aviation enthusiasts.
HeliAlpha offers public services too. They can offer their services at Emergency Medical situations, in case of searching and rescuing people, at evacuations, at firefighting and when civil protection is needed.
As for the commercial services, helicopters can be used for transferring equipment to building sites, building materials and workers to construction sites, and depending on the altitude and temperature they can carry up to max. 1000 kg. Lastly, they can offer a wide range of film and photoworks for private or commercial productions.
HeliAlpha guarantees that this experience would be totally different and in combination with the experienced pilots and team, safety, reliability and professionalism are ensured.
Should you need additional information please visit the HeliAlpha site.