Description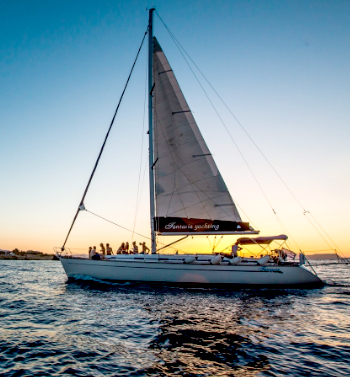 Fantasia Yachting offers a cruise with their luxurious sailing boat named "FANTASIA". They guarantee that each person who chooses this outdoor activity will feel relaxed in a safe and luxurious environment.
They provide the highest level of service and this cruise may be chosen by anyone who wants to live this experience in the sea.
By booking it, it means that the yacht, the captain and linen, towels and end-cleaning products are available. As it is obvious, there is no need for sailing knowledge and any usual procedure or maintenance, when having a yacht, is a responsibility that lay only on the fully trained crew of Fantasia Yachting.
As far as the destinations are concerned, Fantasia Yachting refers that they can cruise to almost every island in the Aegean and it deals with the desire of each customer.
Furthermore, there are two fixed destinations. The first one is "One Day Exclusive Cruise to Dia Island" where everyone can swim, go snorkeling and fishing in Dia's crystal blue water. Of course, lunch and free time to explore the island, go sunbathing and swimming are provided.
The second fixed destination is a "Sunset Cruise to Chersonissos Bay Area" where everyone has the opportunity to admire the picturesque bay of Saint George, dive into Crystal waters and of course enjoy the amazing Greek summer sunset at Crete. Local Cretan wine is also available and thus turning the evening into an amazing experience.
Should you need additional information please visit the Fantasia Yachting site.