Description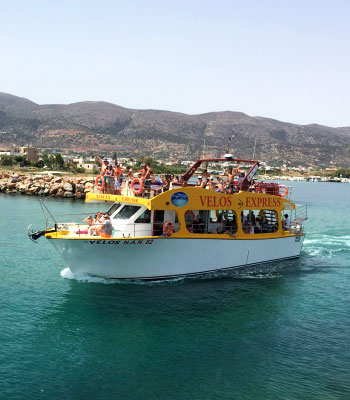 Malia Cruises offers several excursions to many places in Crete, one of them is the "Boat Cruise BBQ". It is a daily boat cruise that starts from Malia port at 11:50, a pleasant sea journey along the coast line with views of Malia, the small isle with chapel dedicated to Afentis Christos, Stalida, Chersonissos Port. The first stop is at St. George's bay in Chersonissos Port.
During this stop, there are several options: sunbathe on board, swimming or snorkeling. BBQ buffet on board is provided with a glass of wine, or raki or orange juice which is included in the price.
Afterwards, at about 14:00, boat cruise continues and drop off will be in small and beautiful fisherman village named Sissi. If the weather does not permit to reach Sissi, the boat stops for half an hour at the port of Malia for swimming. During the second stop fruits and rakomelo (raki with honey) are offered.
The "Boat Cruise BBQ" ends at about 16:00.
Should you need additional information please visit the Malia Cruises' site or their Facebook page.
No street view available at Google maps.