Description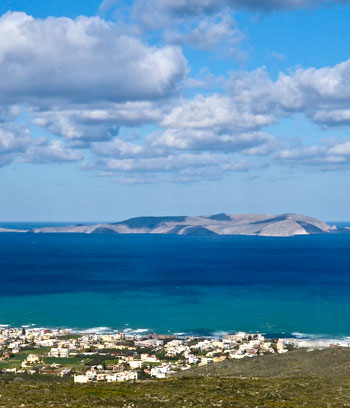 Gouves is a large area, including the traditional village of Ano Gouves or Epano Gouves and the popular seaside resort of Kato Gouves. Epano Gouves is a picturesque traditional village, 18km east of Heraklion and 2 km from Kato Gouves.
The village is built next to the Mount Ederi at a height just above 300 meters, offering magnificent view. The place name is related to the word Gouva, which means 'a bowl of land'. In Crete though, during the medieval period, this word meant a pit in which people store the cereals. In the Venetian documents, Epano Gouves is written as "busa". The earliest mention of the settlement is found in documents of the Ducal Archives of Chandax in 1387 and is named as Guves. Then, in 1577, it is referred in the province of Pediados by Fr. Barozzi as Guvos. In the Turkish census of 1671 it is also referred. In the Egyptian census of 1834 there were 35 Christian and 10 Turkish families.
The inhabitants are engaged in agriculture and tourism. In the plain of Kato Gouves, they grow vegetables, vines and olives and thus they produce wine and oil. The village is characterized by its tranquil and picturesque atmosphere and in combination with its churches and of course the local hospitality, it is an amazing destination. The churches of Agios Ioannis and Agios Georgios with their important frescoes date back to the 18th century and are still found in the village. The central square with its huge eucalyptuses and myrtle trees is home to traditional cafes while the monument of the village stands as a glowing reminder of the history of the village and its contribution to the liberation struggle against the German occupation of 1940. The names of the warriors who lost their lives are mentioned on the monument.
In the narrow alleys of the village, the visitor will have the chance to see old traditional and restored houses.