Description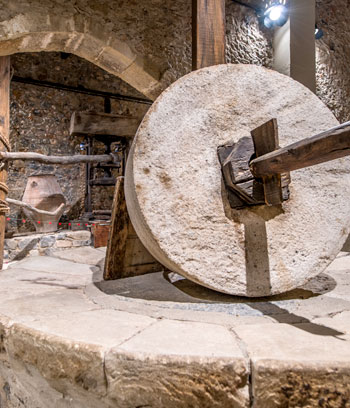 Menelaos Parlamas Museum of Rural Life & Theano Metaxa – Kanakaki Weaving Collection is located in Piskopiano village– approximately 1.5 km south of Chersonissos Port. It is housed in a traditional, renovated, stone-built building which was previously an old olive oil press and a house of Parlamas' family. The Menelaos Parlamas Museum was founded by the Society of Cretan Historical Studies in 1988 after the donation of the buildings by Parlamas' family.
The Menelaos Parlamas Museum Collections are divided into thematic sections. The main ones are two and are related to Cretan Traditional Production and Cretan Weaving. In the first section, visitors can see the wine press, the old 'raki' cauldron, the stone-built oven and a variety of tools used for the cultivation of the land and the fruit processing.
Getting into the museum area, there are household goods that are presented to visitors. There is also an old style olive oil mill and of course in this area there are pre-industrial workplaces of smith and carpenter and tools and objects dating from the late 19th century until the middle of the 20th century.
In the second section there is a collection of Cretan Weaving consisting of representative samples of all regions of Crete. The collection includes wefts with geometric themes and themes from everyday life, with plant and animal motifs with historical and religious themes. Textile tools are also exhibited and weaving techniques are presented.
The Menelaos Parlamas Museum offers an abundance of visual material and through digital media the visitors can get a lot of information concerning the exhibits. It is also accessible to visitors with disabilities, has a small shop and areas in which visitors can rest as well as a temporary exhibition room.
Should you need additional information please open the museum's leaflet.