Description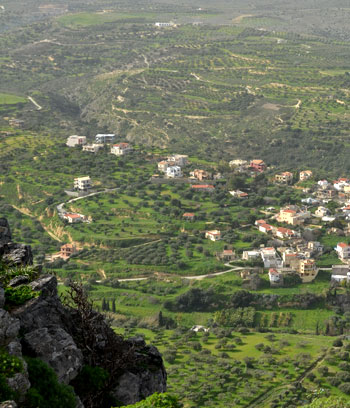 Gournes is located 15 kilometers east of Heraklion, after Kokkini Hani and before Gouves of the Municipality of Hersonissos. It is located at an altitude of 20 meters, on the main road to Agios Nikolaos. The area of Gournes is located in a large fertile plain and the main occupation of the inhabitants is agriculture. In this region, olive oil, wine, raisins and vegetables are produced.
The name of Gournes comes from the word "urna" which is the water container used by shepherds for watering their animals. The archaeologist Spyros Marinatos believes that it is due to the troughs (gournes in Greek) of the Minoan Era.
The settlement is very old. The first mention of the settlement dated back to 1280 by the notary of Chandax Leon Marcello. In 1577, Gournes was mentioned by Fr. Barozzi and in 1583 the settlement was named as Gurnes with 146 inhabitants. In the area of the settlement, Joseph Hatzidakis brought to light tombs of the Middle Minoan Era in 1915. In these tombs were found potteries, figurines, amphorae and ivories.
Until the late 1950s, Gournes was a small settlement and the US Air Force was installed in the area. The area experienced development and a growth of population due to workers. The American Base ceased its operation in 1993. Today, various services of Hersonissos Municipality, schools and the International Exhibition Center are housed in the American Base at Gournes. The settlement is more widely known for the CretAquarium Thalassokosmos – the most modern and largest aquarium in southern Europe- and the research center of the Mediterranean marine life. In the valley of Gournes, south of the village, it is worth visiting the old church of Agios Ioannis Bezetis. In addition, there are two more churches in the village, Agios Georgios and the Annunciation of the Virgin Mary with enviable hagiographies which in their yard, the monument of the village is hosted-a marble monument listing all those who were sacrificed during the German invasion of 1940.
The area is full of small hotels, as well as apartments, rooms to let and modern tourist businesses. In the beautiful area of Gournes there are many places where one can go and enjoy food, coffee, raki, drinks or anything else they want by having a nice time and having fun simultaneously. Along the road of the beach, there are several small sandy beaches with crystal clear waters being organized and having lifeguards.
Attributes
Travel activities

RECREATION, Villages

Location Gouves Region

/

Gournes
Listing categories

RECREATION