Description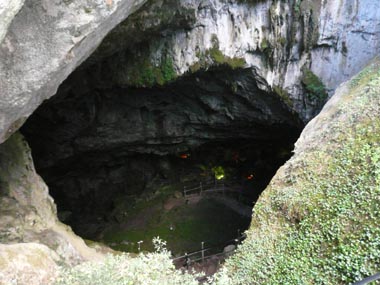 The impressive Dikteon Andron (Dikteon Cave or Psychro Cave) is located at the north side of Dikti Mountain in the Lassithi Plateau of Crete, at an altitude of 1025m above the village of Psychro and in combination with the panoramic view of the mountain, the visitor is enchanted. Its interior consists of impressive stalagmites and stalactites and is one of the most important and well-known caves in Crete and Greece in general.
According to Greek mythology, this cave hosted Rhea to give birth to Zeus and she went there in order to escape from Cronus' fury. Cronus devoured his children because he wanted to prevent the prophecy according to which Cronus would be killed by his son.
The cave is 2200 sq. m, it is lighted sufficiently and the visitor can walk around it easily because there is a well formed path 250 m long.
According to the archaeological findings (Neolithic shells, Early Minoan burials, oblations of the Minoan Era, clay statuettes, stone jars as well as small altars with inscriptions in Linear A) and their study, there was a continuous human presence in the cave since the end of the Neolithic Period that is the last 6000 years. It was probably inhabited and used as a burial site and it certainly functioned as a center of worship from the Early Minoan Period (2800-2300 BC) until the Archaic Period ( 2000-700 BC) while the cult in Dikteon Andron continued until the Roman Years (1st century BC – 1st century AD).
The cave of Dikteon Andron was discovered accidentally in 1883. In 1886 the archaeologist, Joseph Hatzidakis, and the Italian archaeologist, Federico Halbherr, conducted the first small excavations. The first systematic one began in 1899 by the English archaeologist and director of the British School of Athens, David Hogarth.
Should you need additional information, please visit the relevant page at the site of the Ministry of Culture.
Attributes
Travel activities

Archeological Site, CULTURAL

Location Lasithi
Listing categories

CULTURAL