Description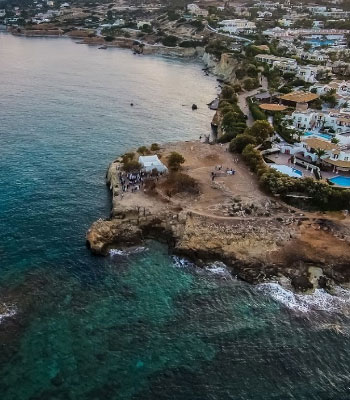 In Anissaras, northeast of Cape "Tigani", next to Agios Georgios church (Sarantaris), there is a large ancient quarry which ran at least two different periods of time – during Minoan and Venetian ones.
North of Agios Georgios church, the mining starts from the surface (open-cast mining) and continues underwater covering the whole area until the opposite islet. At a width of about 30 meters, at the seabed, the traces of the tools, the mining steps, the contours of mined boulders and the boulders themselves are all evident and belong to the Minoan era. The distance between the land and the islet is about 80 meters, while the size of this area is over 2,000 square meters considering the inland and sea segments. At the west side of the quarry, the second mining (Venetian Period) and some secondary mines are discernible.
The land, since the initial operations of the quarry, has been sunk about 2 meters according to the old coastline of the area, while the quarry has been sunk probably due to a great earthquake of 66 A.D. or 365 A.D.
More than 6,000 cubic meters of large-scale boulders were transported (through sea) at a distance of over 20 km, from the seaside quarry of Anissaras to construct the Minoan port, the port of Knossos. It is believed that the Minoan port was at the mouth of the Kairatos (Katsampas) river, west of the point where Ethnikis Antistaseos Avenue meets today the coastal avenue of Heraklion. These stones were later used by the Venetians to build the castle Koules.
According to the archaeologist, Stefanos Xanthoulides, (Chandax Heraklion, 1964) "large boulders were transferred (for the construction of the Chandax walls during the Venetian Rule), often from the ancient port of Chersonissos "Tigani". The Venetians continued the use of the Anissaras quarry and brought thousands of cubic meters of stone to construct Venetian fortress "Rocca a Mare" (Koules) and the walls of the city "Candia" (the Venetian name of Heraklion).