Description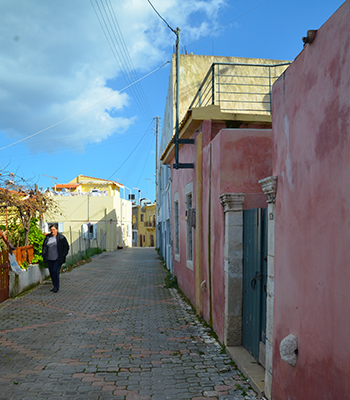 Chersonissos village is located 26km east of Heraklion and about 2 km south of the coastal Chersonissos Port (Limenas Chersonissou).
Chersonissos is a small, picturesque village built amphitheatrically and the view of the Cretan sea is breathtaking. The Venetians called it Bene Veto (nice view) due to the magnificent view of the area from above. Chersonissos was first inhabited in the 5th century AD as the locals wanted to be protected from pirate raids on the coast and from earthquakes.
It is a traditional village that maintains tranquil pace of living in contrast to the busy and tourist Chersonissos Port. Although it has been influenced by tourism, it is not a place where one can find countless bars, shops and many hotels as it keeps its traditional style that is proven not only by the everyday life and the pace of life of the inhabitants but also by the architecture of the village.
Chersonissos is a village with narrow, picturesque alleys, stone-built houses with beautiful courtyards full of flowers, old wells and stone ovens. Walking through the stone alleys and observing the traditional settlement with the characteristic examples of Cretan folk architecture, one enjoys a walk in this enchanting traditional village.
Its beautiful quaint square has been, for hundreds of years, the meeting point of the inhabitants. It is an oblong square with a fountain in the center and around it there are shops with local woven and wood-carved items, the bakery, the butcher's shop and the grocery store with all kinds of local items, cafes and taverns with delicious traditional recipes of the Cretan cuisine that everyone can taste and of course the visitors will have the opportunity to rest under the shade of mulberry trees.
Every year, on the Eve of the Assumption of Virgin Mary and on the day of the Assumption, which is one of the biggest celebrations of Orthodoxy on 15th of August, the square is packed with locals and tourists gathering together to celebrate that day until early in the morning. During the summer, the owners of the square shops organize a Cretan night with traditional music and dances every Monday, from May to October.