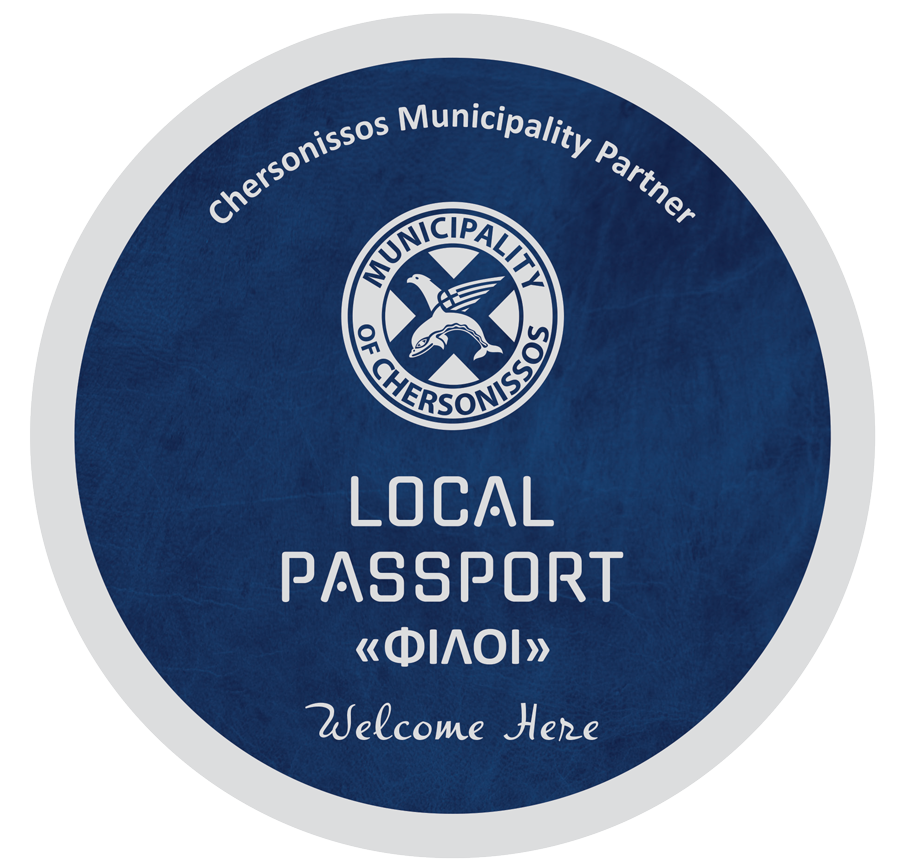 Following is a list of enterprises participating in "Local Passport", grouped into: Accommodation, Transportation, Shopping etc.
Each group is sorted by business location, in ascending order, but it is possible to sort the group by any column.
Enterprises' data displayed on this page were verified by enterprises on August 30th, 2019.
The Municipality of Chersonissos bears no responsibility for any subsequent changes not reported to.
Any local enterprise wishing to participate in the "Local Passport" initiative, can contact us, communicating the data of the enterprise and the offering towards "Local Passport" owners.
Accomodation
No
Company
Location
Google Maps Link
Telephone (add +30 for international call)
E-mail
Web-Site
Benefit
1
ALDEMAR KNOSSOS ROYAL 5* BEACH RESORT
 Anissaras
OPEN
2897027400
E-mail
aldemar
10% reduction on announced room prices (for direct bookings with the hotel)
2
LYTTOS BEACH
Anissaras
OPEN
2897502520 - 2897502500
E-mail
lyttosbeach.gr 
10% reduction for direct bookings (through our website or hotel's reservation dpt)
- free early check in and late check out (according to availability)
- a welcome offer and a special gift will be placed in room
- 20 minutes spa therapy per each adult
- full morning maid service and evening maid service
- room decoration (for honeymoon and wedding anniversary) Room Decoration (for honeymoon and wedding anniversary)
- a romantic dinner for two (valid for Lyttos beach honeymooners)
3
AGRABELLA HOTEL
Anissaras
OPEN
2897023110
E-mail
agrabella.gr
10% reduction (for direct bookings with the hotel)
4
MARI KRISTIN
Chersonissos
OPEN
2897022537
E-mail
marikristin.gr
10% reduction for direct reservations with the hotel's reservation department
5
ARION STABLES & APARTMENTS HERSONISSOS
Chersonissos
OPEN
6973733825
E-mail
www.arionstables.com
10% reduction (for direct bookings with the hotel)
6
VILLAGE HEIGHTS RESORT
Chersonissos
OPEN
2897029065
E-mail
www.villageheights.gr 
10% reduction on reservations made directly with the hotel's reservation department
7
SERGIOS HOTEL
Chersonissos
OPEN
2897022583
E-mail
www.sergioshotel.gr 
10% reduction (for direct bookings with the hotel)
8
CENTRAL HERSONISSOS HOTEL
Chersonissos
OPEN
2897022697
E-mail
www.centralhersonissos.com 
10% reduction (for direct bookings with the hotel)
9
IRO HOTEL
Chersonissos
OPEN
2897022583
E-mail
www.irohotel.com 
10% reduction (for direct bookings with the hotel)
10
THALIA DECO C&B HOTEL
Chersonissos Port
OPEN
2897022590
E-mail
thaliadecohotel.gr
10% reduction for accommodation (for direct bookings with the hotel)
11
BELLINO APTS
Chersonissos Port
OPEN
2897023071, 2810 212979
E-mail
www.bellino-apts.gr 
10% on the hotel web-site
12
VILLA SONIA
Chersonissos Port
OPEN
6907410282
E-mail
www.villa-sonia.com 
-10% reduction for direct bookings through our web-site or with our reservation department.
- free early check in and late check out ( depending on availability)
13
NIKOLAS VILLAS APARTMENTS
Chersonissos Port
OPEN
2897024614
E-mail
www.nikolasvillas.gr 
10% discount on reservations made directly with the hotel reservations department
14
PALATIA VILLAGE
Chersonissos Port
OPEN
2897022017 - 6932 226054
E-mail
www.palatia.gr 
10% reduction for direct bookings (through the website or the hotel reservations department)
15
VOULA HOTEL
Chersonissos Port
OPEN
2897022097 - 6932386169
E-mail
www.voulahotel.gr 
10% reduction for direct bookings with the hotel
16
MAGDA HOTEL
Gouves
OPEN
2897042307 - 2897042308
E-mail
www.magdahotel.gr 
10% reduction on the hotel website prices for all inclusive accommodation for direct booking through the hotel reservations department
17
BLUE AEGEAN HOTELS & SUITES
Gouves
OPEN
2897043200
E-mail
www.blue-aegean.gr 
10% reduction for accommodation , food and drinks (for direct bookings with the hotel)
18
HARA ILIOS VILLAGE
Gouves
OPEN
2897042740
E-mail
www.hara-ilios.gr 
15% reduction for direct bookings (through our website or our hotel's reservation department)
19
DIOGENIS BLUE PALACE
Gouves
OPEN
6980996666, 2897043230-40
E-mail
https://diogenisbluepalace.eu/
15% reduction on bookings through e-mail or through the hotel website. The offer cannot be combined with other reductions/offers
20
CRETA BLUE SUITES
Koutouloufari
OPEN
6944684994
E-mail
www.cretablue.com 
10% reduction for direct bookings with the hotel.
21
ESPERIDES RESORT CRETE
Koutouloufari
OPEN
2897022322
E-mail
www.esperidesresortcrete.gr 
10% reduction (for direct bookings with the hotel)
22
ASTERIAS VILLAGE RESORT
Koutouloufari
OPEN
2897024539
E-mail
www.asteriasvillage.gr 
10% reduction (for direct bookings with the hotel)
23
KYKNOS BEACH HOTEL & BUNGALOWS
Malia
OPEN
2897032040
E-mail
www.kyknoshotel.gr 
10% reduction (for direct bookings with the hotel)
24
LIA-SOFIA APTS
Stalis
OPEN
6973210707
E-mail
10% reduction (for direct bookings with the hotel)
25
ANESEA HOTEL
Stalis
OPEN
2897031666 - 6978485660
E-mail
www.anesea.gr 
10% reduction for direct bookings with the hotel (valid until 31/10/2023)
26
NEON HOTEL
Stalis
OPEN
2897031997
E-mail
www.neonhotel.gr 
15% reduction for bookings directly with the hotel
No
Company
Location
Google Maps Link
Telephone (add +30 for international call)
E-mail
Web-Site
Social Media
Benefit

MUSEUMS

1
LYCHNOSTATIS
Chersonissos Port
OPEN
2897023660, 6937339344
E-mail
www.lychnostatis.gr 
25% reduction

OUTDOOR ACTIVITIES

1
CYCLING CRETA
Anissaras
OPEN
6974090452, 6947308452
E-mail
www.cyclingcreta.gr 
10.00.- euro reduction per person, per participation in the guided tour "canyons & villages" .
2
CORAL DIVING CENTER
Anissaras
OPEN
2897501091, 6944542624
E-mail
www.coraldivingcrete.com 
10% reduction on the discover scuba diving course
3
ARION STABLES & APARTMENTS HERSONISSOS
Chersonissos
OPEN
6973733825
E-mail
www.arionstables.com 
10% reduction on carriage and horse riding tours
4
MOTO EXPRESS
Chersonissos Port
OPEN
2897024801
E-mail
www.motoexpress.gr 
One day free bicycle rental (09:00-21:00). Lock and helmet provided.
5
KARTLAND HERSONISSOS
Chersonissos Port(Next To Star Beach)
OPEN
2897025090
E-mail
www.facebook.com/KartlandHersonissos
10% reduction in mini golf, bungee rocket and gokart
6
SAFARI CLUB
Malia
OPEN
2897032666, 6978485660
E-mail
www.safariclub.gr 
20% reduction (valid until 31/10/2023)
7
THE HUB-MTB ADVENTURES
Malia
OPEN
6936244588
E-mail
www.mtbhub.gr 
5% reduction on participation in the excursions

PRIVATE BEACH

1
SIRROCO ORGANIZED PRIVATE BEACH
Kato Gouves
OPEN
2897042450
E-mail
www.sirroco.gr 
5% reduction